Logistics
The Potsdam Summer School 2022 will be conducted at the Institute for Advanced Sustainability Studies (IASS), the Albert Einstein Campus and the University of Potsdam.
Please note:
Photographs and film footage may be taken during this event, which may or may not include your recognisable image or a video. By registering and participating in this event, you consent to being photographed or filmed and authorise the organisers to use the photographs or film in print, digital, video or web-based format for its promotional and archival purposes.
Check-In
During the Potsdam Summer School 2022 all participants will stay at the: Dorint Hotel, Potsdam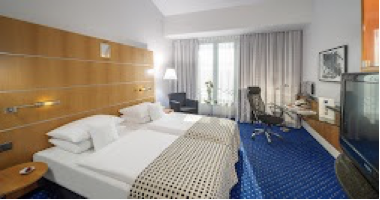 Address: Jägerallee 20, 14469 Potsdam
Phone: +49 331 274-1000
E-Mail: info.berlin-potsdam@dorint.com
---
SUNDAY, August 21, 2022
Check-In
Check-in will be available from 2:00 p.m. If you arrive earlier, please, check prior to your arrival if your room is ready. If not, you may leave your luggage at the front desk and go for a little stroll to explore charming Potsdam.
Registration desk 5:00 to 7:00 p.m.
We will have a registration desk set up near the reception area from 5:00 to 7:00 p.m. on Monday, Aug 19.
Welcome reception & dinner from 7:30 to 9:00 p.m.
We will have a reception and welcome dinner starting at 07:30 p.m. at the Institute for Advanced Sustainability Studies (IASS) which is just a 15-minute walk from the hotel. Instructions about how to get there will be given upon arrival.
---
Public transport from Berlin
For ground transport you will need a single fare ticket for the zones ABC (€ 3,80). You can obtain it either from a ticket machine outside the airport or from the counter inside the airport. You can also purchase a ticket from the bus driver. When you buy it from a ticket machine, please make sure to validate it by stamping (red box, next to the ticket machine or on the bus).
https://www.bvg.de/en/connections
From Potsdam Central Station
You have several options:
Tram 92 in direction of "Kirschallee"and get off at "Reiterweg/Alleestr." (7 stops).
Tram 96 in direction of "Campus Junfernsee"and get off at "Reiterweg/Alleestr." (7 stops).
Bus 603 in direction of "Höhenstr."and get off at "Reiterweg/Alleestr." (7 stops).
Bus 695 in direction of "Pirschheide"and get off at "Reiterweg/Jägerallee." (7 stops).

Then it is a 300 m walk to the Hotel from the tram stop and only 80 m from bus stop 695:
From the airport Berlin BER
Take the regional train RB 22 to Potsdam Central Station (duration of journey 34 min) or bus BER2 to Potsdam Central Station (duration of journey 55 min). From here proceed as described before.
From Berlin Hauptbahnhof (Central Station):
Take the regional train RE1 from platform 11 in direction of Brandenburg (duration of journey approx. 25 min) or suburban train S7 from platform 16 in direction of Potsdam Hbf (duration of journey approx 35 minutes) to Potsdam Central Station (12 stops). From here proceed as described above.
---
Programme Format
The Summer School consists mainly of lectures/talks and small group meetings/project work. Most of the lectures are scheduled in the mornings or early afternoons. Please note that group projects are an integral part of the programme. For details, please look up under section "programme".
Participants of the Potsdam Summer School can earn a maximum of 3 ECTS-credits within the framework of this programme. They will be comprised as follows:
1 ECTS-credit for the preparation/pre-readings
2 ECTS-credits for participation in the ten-day programme


Programme Expectations
We expect that participants will attend all lectures for the full duration of the programme, participate fully in a group project, and fulfill all related assignments and deadlines. You should expect to spend some amount of time working on your group projects outside of the scheduled sessions. Participants who do not meet these requirements may be asked to leave the programme at the discretion of the organisers. Dress is casual.
---
Pre-readings
Some lecturers might provide pre-readings. You will find the links with each individual speaker (where applicable.)
---
Accomodation/Meals
All participants will be assigned to double rooms (single occupancy) including breakfast at Dorint Hotel, Potsdam. All rooms will have free Highspeed WIFI access. For safety and contractual reasons, you may not have overnight guests in your rooms. During the Potsdam Summer School the organisers will cover for all lunches except for the weekend (Aug 27/28). Dinners will be included on Aug 21, 22, 23, 24, 25, 29 and 31. Please, make sure that you are at the summer school venues by 08:45 since we shall start our programme at 09:00! Lunch will be served from 12:30-14:00. Dinner times will vary according to the programme. Please let us know if you have any food intolerances or dietary requirements prior to your arrival.
---
Health Insurance and SARS-Cov-2 Regulations
All participants have to organise for their own health insurance during the Potsdam Summer School. Please make also sure that you have read and understood the SARS-CoV-2 regulations which might still apply at the time of the event. The information can be found here.
---
Ex Curriculum
Apart from our summer school programme we will organise some other activities. More details on this will follow subsequently.
Potsdam is a charming place and has lots of attractive sites and your hotel has a pool and a sauna and is adjacent to park Sanssoucci. A bike rental is also available next to the hotel. So be sure to bring your sports gear with you to have a swim or a run in the park!
---
Internet Access
Free WIFI will be available in the hotel, at IASS, on Albert Einstein Campus and the University of Potsdam.
---
Local Transportation
We will provide free tickets for all public transport in Potsdam during your entire stay. But please note that these are only valid for Potsdam and not for travelling to and in Berlin.
Costs
A tuition fee of € 350 will be charged from each participant.
Application Requirements
A full application consists of the following documents:
A current resumé or curriculum vitae
A letter of motivation
The completely filled out application form → click here for download
Your resumé or curriculum vitae should include a clear description of your current educational or professional status and a list of publications, if any.
Your letter of motivation should explain why you want to attend the Potsdam Summer School. The statement can be 1 – 2 pages in length.
We also require two references. When you complete the application form, please also provide the e-mail address of the two persons, you would like to give as references.
It is very important that you name your file according to the following order:
last name_first name_year of birth (YYYY)
For example: borowski_angela_1900
Full applications submitted by April 30, 2022 until 23:59 UTC will be given due consideration.
Any application received after this date can only be entertained on a space-available basis. For further information, please sen an email to angela.borowski(at)iass-potsdam.de
---
Upload Master Sheet / Apply online
All the above mentioned documents should be transmitted at the same time and uploaded as a single pdf-file using this Upload Master Sheet. The file size has to be limited to max. 8 MB.
If you don't already have a software programme generating pdf-files, a large number of free software can be found easily on the internet. Just search for "pdf generator" or "pdf creator".